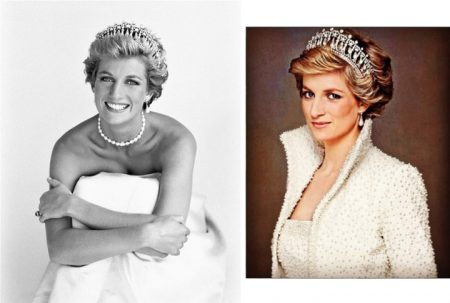 It is so hard to imagine that this year will be the 21st Anniversary of the death of Princess Diana.  Yet even today she is still fondly remembered as the "People's Princess". This post is entirely dedicated to Lady Diana and her style choices when it came to gorgeous pearl earrings.  We will show you some remarkable outfits that she wore on different occasions and several pearl accessories that are similar to those she preferred to wear.
During her short life she really made a mark on the fashion world and these days a great many of the world's top fashion designers are still inspired by her.  It was her unique combination of casual and regal elegance that made her such a fashion icon when she was alive.  This included her long time love of cultured pearls.
From a very young age, Diana was not one to stick to convention.  Whereas her school friends loved nothing more than wear a pair of diamond stud earrings, she bucked the trend by wearing a pair of earrings with pearls instead.  She tended to match these up with a simple single string of pearls.
As she grew older, so her love of pearls remained constant.  In fact she loved nothing more than to add pearls to any outfit she wore. Stylish, refined, chic and always paying attention to details, she enjoyed the pure shimmer of the South Sea or cultured white pearls. For the school run she'd stick to her favorites of a string of pearls matched with some simple pearl earrings.  Whilst for those all-important official events she'd team more elaborate items such as a sapphire brooch with a choker made up of multiple rows of pearls.
What you may be surprised to learn now that is many designers have started to look back at what was fashionable in the 1980's and 1990's.  So of course many designers have now begun to look at Princess Diana for inspiration for designs that we can wear today. This is also the same for jewelry.  A great many designers have begun to replicate the kinds of pieces that were worn by Diana.
HER LOVE FOR PEARLS
Yet although it was Princess Diana who helped to make pearls fashionable once more.  They have in fact had a very long association with the British monarchy.   It all really began back in the 1800's when the then Princess Victoria was seen wearing a string of pearls at the age of 2.  Even her Majesty the Queen has a love for pearls as well.
The main reason why Diana had such a love of pearls was because of their versatility.  Just like her, you'll find that there are plenty of wonderful pieces of jewelry that include pearls that you can wear without looking like your grandma did.
Her love of pearls was such that she owned them in a variety of different shapes, sizes and colors.  But none of us will forget that first engagement photo.  She decided to team up her engagement outfit with a single strand  ( you can find a similar version below from our own pearl necklace collection) of large graduated pearls that she had brought before her engagement to Prince Charles was announced.
This piece of jewelry was very simple in design and suited that shy demure young lady perfectly.  No one ever said when seeing Diana wearing pearls that "they looked like something my grandmother would of worn."  In fact pearls became very much part of Diana's ensemble throughout the month's leading up to the wedding.
Even after the wedding this very simple, but stylish, piece of jewelry remained important in her life. She wore them frequently both when on official duty as well as when spending time away from the limelight.  She continued to wear them up until around 1987.  Many believed she did so because they reminded her of times gone by.
Pearls also played an important part throughout Diana's life.  She would often wear them as they really added a touch of glamour to the outfits she wore, none more so than after her divorce from Prince Charles.
Who can forget the image of her in that figure hugging little black dress that she had teamed up with a multi-row pearl choker?
But that wasn't enough for Princess Diana she added a little more sparkle to the outfit by attaching a sapphire brooch to the choker.  No wonder the international press decided to name the outfit "The Revenge Dress." She really wanted to show Charles and the world that she was okay with what was going on.
A quick look online and you will soon come across images of Princess Diana many showing her wearing some amazing jewelry.  But there were certain pieces of jewelry that she loved to wear more than others and all included pearls within the design.
But of all the jewelry items Prince Diana wore there are certain ones tend to get the more recognition than others.
4 Memorable Pearl Jewelry Pieces Worn By Princess Diana 
The Show Stopper
This particular piece was made from 11 strands of interlocking miniature pearls all held together by 5 oblongs into which diamonds and rubies had been set.
Most of course will remember her wearing this spectacular item to the premiere screening of the film "Hot Shots" in 1991.  She chose to team this piece of jewelry  with a red dress by UK fashion designer Bruce Oldfield.
Source: Getty Images
This was at a stage in Diana's life where she was one of the world's fashion icons.  It showed how much she had grown in confidence and how she wanted everyone to see that she loved who she was.
To recreate this item of jewelry is quite simple.  You need 2 or 3 strands of pearls varying length and a multi strand clasp.  Just simply attach the strands of pearls to the clasp.
The great thing is you don't need to limit yourself to just one color.  Why not choose to create a 2 or 3 strand pearl necklace combining, white, lavender and pink colored pearls.
A Wedding Gift
Among the 12,000 presents that she and Prince Charles received as wedding gifts, there was one in particularly that she loved.   It was a pair of pearl and diamond earrings that were a gift from the Emir of Qatar.  A similar pair can be found on our collection.
These were in fact the most delicate set of pearl earrings that Diana ever owned.  Each of them featured a diamond floral motif from which a pear shaped pearl was suspended on a chain of diamonds.  She wore these repeatedly throughout her marriage to Charles and after their divorce.  The last time she was seen wearing them was in June 1997 at a charity event that took place just before her death.
Earrings From A Museum Gift Shop
They may of looked real but in fact the pearls in this set of earrings were fake.  It is thought that Diana actually purchased these whilst visiting the Metropolitan Museum of Art in New York in 1989.
They are more commonly referred to as the "Venus" earrings.  It is said, their design was inspired by the ones worn by this Roman goddess in a painting by the Flemish artist Rubens.  In this painting Venus is shown only wearing a bracelet and pearl teardrop earrings.
These same pearl earrings are still for sale in the shop at the museum today.  So it is possible to pick up, a pair that are, identical to the ones that Princess Diana wore. Plus the fact is that these types of earrings appealed to Diana's very down to earth nature.
You may find a similar pair of pearl earrings on our collection as well. Meet the Marcella White Freshwater Cultured Pearl Earrings Set. The perfect white pearl is set into 14K gold creating the ultimate in the Black Label Collection.
The 4 Strand Pearl Choker
This particular item actually belongs to the Queen but was still a favorite with Diana.
The Queen tended to wear them as they were, but of course Diana decided to really make a statement by attaching a sapphire brooch to them, which was a wedding gift from the Queen Mother.
The same piece of jewelry was then passed on to her son's after her death.  Now the brooch has received a new lease of life as the sapphire was used in the creation of the engagement ring that Prince Harry gave to his now bride Meghan.
Like Diana it is pretty easy to recreate such a beautifully stunning piece of jewelry to wear.  A multi strand set of pearls along with a small delicate brooch containing a small stone of your choice will do.
Yet even though it is now 21 years since the passing of Princess Diana her love of pearls lives on. The Duchess of Cambridge also has a love of pearls and can often be seen wearing them.  Only recently she was seen wearing a bracelet made up of 3 strands of pearls and diamonds that did in fact use to belong to her late mother-in-law.
The Duchess of Cambridge also loves to wear pearl earrings designed by Annoushka and Kiki McDonough.  This is the same Kiki McDonough who designed the pearl and amethyst set that Diana wore on the day that we learnt that she and Prince Charles were separating.
So although in some ways although the memories we have of Princess Diana have begun to fade, her place as one of the world's most important fashion icons remains.  It was her love of pearls that helped to bring them out of the dark and back into the light once more.  No longer do we see pearls as being old and out of place. Now we see them as a fashion item that will help to create a more glamorous and beautiful finish to any outfit.
Women of all ages now love to wear pearls as they come in such a wide variety of colors, shapes and sizes. So being able to find a pair of  timeless pearl earrings, necklace or bracelet that suits who you are and what you are wearing shouldn't prove difficult at all.
If you aren't sure just what you are looking for that here at Pearls Only we have plenty of wonderful designs to choose from.  So finding one that suits you and creates a look similar to Princess Diana's should be quite easy.  Your investment will definitely be valuable and durable. Explore our collection of pearl necklaces and pearl earrings and find your inspiration by simply looking at Princess Diana and her stylish and refined attires. A true source of inspiration, she will have a place in our heart until infinity runs out!
(Visited 1,571 times, 1 visits today)