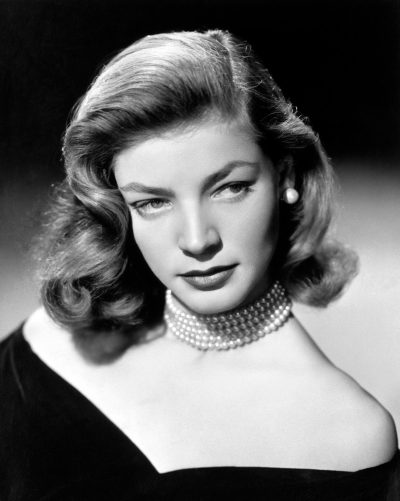 Even as she grew older, Lauren Bacall still knew how important it was to look her best.  Throughout her life, many women looked up to her and some even attempted to try to be like her. However, no one has even come close to be able to perfect the look that she so epitomized throughout her amazing life. The Lauren Bacall style is still present and can be a real source of inspiration nowadays. Keep reading to find out how you can incorporate pearls and some of her own lessons of fashion and elegance into your wardrobe!
From the very beginning, she was known for her elegant style and of course that sultry look.  Although she was a star in her own right, many people even today still associate her with Humphrey Bogart.
Lauren Bacall was a style icon to many throughout the 1940's and 50's all because of her being able to look glamorous without much effort. Most of the outfits she wore whilst on screen tended to be suits that had a sharp masculine look to them or very slinky evening gowns. Very often, in order to help enhance the look of these outfits, she would wear pearls.
This was a woman who loved sleek jewelry that could also make a statement, and like her, there are ways we can wear such pieces today.
Throughout her 88 years, she taught has a great many things not only about life but also being a woman. One of the most important lessons we can learn from her is "the way that you present yourself is important". Also, you should always remain true to yourself even in the way you look.
This was one very confident lady, who lived life to the full and without any kind of compromise. Yet she was still able to present herself in a very ladylike manner. She always made sure to wear things that looked elegant and classy.
If you want to be able to recreate some of Lauren Bacall's more iconic looks then there are a couple of things to keep in mind first.
Fashion Lessons Inspired by Lauren Bacall's Style
Pearls Aren't Only For Royalty
Throughout her life, Lauren Bacall would often be seen wearing a string of pearls, but sometimes she preferred to make a statement by wearing really obvious pieces of pearl pieces of jewelry.  She tended to wear such worn over simply designed tops or dresses.  Before Lauren pearls were often seen as something that only glamorous grannies or royalty should be wearing.
She clearly showed that wearing pearls was something that we can all do if we want.  Especially as these days, there are some amazing pieces of jewelry now available that include pearls into the design.
You Don't Need To Go Big And Bold
When it came to jewelry Lauren Bacall preferred to wearing pieces that reflected her love of the arts.  She preferred pieces of jewelry that sometimes included pearls that were unique in shape, form, and texture.  This is a woman who over the years formed very close relationships with some of the jewelers who had designed items that she wore.

Step Out In Style
Lauren Bacall always believed that you should never do too much to the clothes you wear.  She wasn't one to wear floaty dresses but rather preferred to keep things simple when going out for the evening.  She loved draped gowns with nipped in waists, which were very prevalent during the 40's and 50's.  This became very much the go to look for her.
As for the daytime, Lauren preferred to wear more formal outfits.  She loved to wear coordinating separates of a checked or houndstooth design. Often she could be seen wearing mid-length skirts that were teamed with a blazer and crisp white shirt.
In order to make her daytime outfits look a little more feminine, she loved to add a few simple accessories.  She often wore a layered pearl necklace along with a brooch and scarf.  Plus she loved to keep makeup to a minimum.  Often she would only wear a small amount of eye makeup and would wear a pop of color on her lips.
Is it possible for you to recreate some of her looks today?  Yes, it is by following the tips that we offer below.
1.  The Chic Iconic Look
From the beginning, Lauren Bacall became known for her bold fashion choices.  Often she would be seen wearing trousers that wouldn't look out of place on a guy.  But to help soften the look she would often team hers with a simple top.
You can recreate this look by wearing a pair of high waisted wide leg trousers.  Now pair these with a monochromatic silky blouse and a pair of chunky wedged shoes to add a little height.  To finish off the outfit team it up with a pearl pendant or a single row of pearls. A long rope of pearl would also look magnificent and will elongate your figure more.
2.  For The Office
Lauren Bacall wasn't one for faff.  She preferred to wear more streamline, clean line tailored items.  Such outfits really helped to create a statement without being over the top.
If you would love to recreate this look for work then team a midi skirt outfit with a white shirt, a black belt and a pair of cute boots.  A lovely pair of boots with a kitten heel would look amazing especially if you keep things simple.   This will really bring the outfit into the 21st Century.  Again accessorize with very simple pieces of jewelry say a beautiful pair of pearl stud earrings.
3.  The French Vibe
Although Lauren Bacall loved to dress casually away from the public eye, she is more known for wearing formal suits on-screen.  She especially favored suits that had broad shoulders, as they really looked amazing on her.
Again it is possible to recreate a look like this by wearing a black two-piece suit.  Ideally, choose a suit with either a midi skirt of a pair of wide-leg trousers inspired by Lauren Bacall style. This you can wear either during the day or for a more formal event.  During the day why not picking to wear a chic beret.
As for more formal events team your outfit with a silky white or single colored blouse and killer pair of high heels.  To really further enhance the look and bring out your glamorous side team with a pearl necklace, earrings, and even a pearl bracelet.
4.  Let Your Dangerous Side Out
Lauren Bacall was one badass sexy woman.  Yet her soft golden locks really helped to add a touch of femininity to any outfit that she wore. She was often seen around town wearing black yet still managed to make it look feminine. In the end, there is nothing more spectacular and ravishing than an all black look.
It is possible to recreate such a look by teaming a simple black blazer with a pair of skinny jeans and some pumps.  Of course, don't forget to put some curls in your hair if it is long enough.  This is a look that we are sure that Lauren Bacall would favor these days.
5.  Dress Your Age
Many women these days try to dress as if they are still young, but it is better to dress in a way that is appropriate to your age. As Lauren Bacall got older so her taste in fashion began to change and mature. Yet she still loved to be able to bring out her younger side as well, but decently, tastefully, elegantly.
One outfit that she wore that really accentuated her looks, as she got older was to wear a high neck black dress with a white short-sleeved coat.  Plus of course, she added a few glamorous accessories to the outfit such as some pearls and a pair of gladiator sandals.
These days you can also recreate a look similar to this.  Pair a lovely pair of gold Roman sandals with a white and black outfit.  Finish the outfit off wear a simple gold necklace and put on a little red lipstick.
Or, check this stunning and timeless look! Even if she got old, her beauty and style did not! The pearl drop earrings are absolutely fabulous and excellently complemented by that pearl brooch. Aging does not mean that you should temper the styling choices. You just need to reflecte a more mature taste in your jewelry selections.
6.  A Little Black Dress
During the latter part of her life, the Lauren Bacall style showed that she loved to wear a black bodice dress. This really did her justice as he helped to show off her amazing figure. The plunging neckline was definitely a little ahead of the times, but by wearing a choker with the dress it helped to add a touch of class to the outfit.
Go for either a maxi or knee-length dress and team it with a pair of heels and a necklace of your choice.  It is your decision whether you go the whole hog and opt for a dress that has a plunging neckline or one that is a little more demure.  When it comes to accessories might we suggest teaming such a dress with a lovely pearl choker and a pair of gorgeous drop earrings?
As you can see above being able to recreate some of Lauren Bacall's more iconic looks should prove at all difficult. The Lauren Bacall style is eternal, glamorous and forever fashionable. Quite a valuable source of information, don't you agree? You just need to remember to keep things as simple and as tailored as possible.
When it comes to accessories here at Pearlsonly.com we have a great selection of jewelry to choose from. So finding the perfect pearl necklace, earrings or bracelet to wear with any of the outfits above should prove pretty easy.  You don't need to just wear white pearls, so why not make a statement by adding some color to the mix. Instead of the usual white why not go for pink, lavender, gold or even black. Just check your wardrobe again and see what resembles more to Lauren Bacall's style and find your accessories here!
(Visited 635 times, 1 visits today)