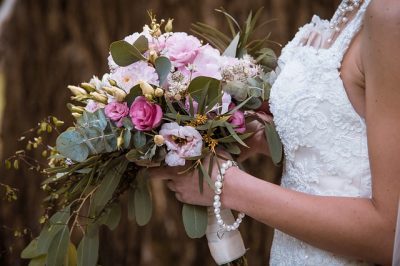 For hundreds of years now pearls have had a very long association with weddings.   When it comes to what jewelry to wear on the most important day of a woman's life then pearls make the most beautiful choice. Often women will wear earrings or a necklace on their big day but there are now some beautiful pearl bracelets for brides to wear. Read this post and discover some of our wonderful bridal pearl bracelet suggestions!
Not only are pearls perfect for a wedding, but they are also something that can be worn long after the day has gone.  Therefore, you are making a secure investment! This means that the chosen bracelet can become the most refined jewelry choice for your outfits or it can be a truly valuable legacy for your daughter. Any jewelry made using pearls should be a key piece, in any woman's wardrobe even a beautiful bracelet.
This lovely bride is wearing a stunning pearl bracelet that is part of the White Weave Pearl Set.  You can wear the whole set or just pick some items from your special day and then wear the other pearl pieces on other occasions.
By why is it that all kinds of pearl jewelry for weddings are so popular today?
Before the 1900's and the appearance of pearl farming, the only way pearls could be had was through diving.  The problem was that not every oyster would contain a pearl and not everyone was round.  So, of course, it would take a considerable amount of time and energy to find pearls that were perfectly matched or graduated.
Yet although pearls including those to be found in pearl bracelets for brides are more readily available.  They still carry that connotation of being some very special and precious and should only be worn on the most important occasions in a woman's life.  This is why it is safe to say that pearl bracelets for weddings are the ideal piece to be worn on this very important day in a woman's life.
Much like the white wedding dress, pearls are seen as a sign of purity.  There is one particular tradition that states should you wear pearls on your wedding day it will ensure that you have a happy marriage.
If you've decided to wear bridal pearl jewelry you need to think not only about what to wear but also how to wear it.  Even if you are only considering wearing bridal pearl bracelets the advice we give below may prove useful.
Advice On Wearing The Right Bridal Pearl Jewelry
1. Think About Your Dress
Think about the style of your dress in relation to the length, proportions, neckline, and sleeves.  If you've gone for a design where a great deal of your neck and clavicle is on the show, then a single strand of pearls worn as a choker would look amazing.  To further enhance the look choose bridal pearl bracelets that are made up of 2 or 3 rows of pearls.
Whereas if you are wearing a dress that is much higher up the neck, you should avoid wearing a necklace. Instead, you can opt for a beautiful pair of drop earrings.   These days you can find some amazing pearl jewelry bridal sets.  Some will just have a necklace and earrings, whilst others may also include a bracelet.
Only choose the pearl wedding jewelry for brides after the dress has been chosen.  This way you are ensuring that you get the right pieces to help enhance the whole look of the outfit on the big day.
2.  Don't Go For The Same Design
A great many brides choose to get bridal pearl bracelets that match closely with the details of their wedding dress.  In fact, sometimes it is best to choose pieces that complement the dress.  Rather than choosing to wear white pearls on your big day instead of choosing to wear pearl bracelets for brides that are made from colored pearls.
Might we suggest going for pearl bracelets for weddings that are a mix of saying white, cream, gold, pink or lavender pearls? These are colors that will really help to accentuate the beauty of your dress even more.
3.  Set A Budget
What jewelry you wear on your wedding day, of course, will have a lot of great sentimental value to you in the future, it is going to be something you treasure for the rest of your life.   Therefore it is a good idea to select pearl bracelets for brides that are of the highest quality and are mounted in either gold or silver settings.
Take time choosing the pearls, as you want ones that surface quality is excellent, there are no imperfections.  That the shine (lustre) of the pearls clearly shows through.
4.  Choosing The Right Size
Like all bracelets, it is important that you wear one that fits perfectly.  Ideally, choose pearl bracelets for brides that loose enough to move and dangle around the wrist.  But aren't too big that they will slip over your hand.  So before you go about buying such pieces of jewelry it is important to know what size your wrist is.
To measure your wrist is very easy.  All you need is a flexible measuring tape a piece of string or a strip of paper.  Make sure that the string or paper is long enough to go round your wrist.  You may want to ask a friend or your mum to help you.
To find out what size your wrist is placed the string or paper around it just above the wrist bone.  Now mark the paper or hold the string where the two pieces meet.  Then after removing place alongside the measuring tape and look what the number is.  Best to measure in inches rather than centimeters.  Then to this figure add ¼ to 1 inch.  This will then determine just how tight or loose any bridal pearl bracelets will be.
You may find that adding an additional ½ inch is best, as the bracelet will then sit more comfortably on your wrist.  If you have quite thin wrists then you may find measuring the width of your fist when closed is far better.  Measure from the top center of one knuckle to the top center of the last.
Another trick you might want to try out before buying is to tie a piece of string to the desired length and then place it on your wrist.  Then wear it for a little while to see if it feels comfortable or not.
One thing you will soon learn is that even bridal pearl bracelets never go out of style. Therefore, you should make sure that the one you select fits properly and feels comfortable. Being worn on such a special day, a pearl bracelet will complement your natural beauty.
All in all, we hope that you have found the information we've provided above to be useful when it comes to selecting the right size bracelet for your big day.
Taking Care Of Pearl Bracelets For Brides
After purchasing any pearl jewelry bridal sets you need to make sure that you take care of the items properly.  Always clean them after you've worn them.  To do this simply take a soft cloth that you dipped into some warm water and gently rub over the pearls.  Then very gently rub with a soft dry cloth to remove any moisture.  You can add a small amount of detergent liquid to the water if you wish.  But then you must wipe the pearls down with a damp cloth afterward.  This will help to remove any detergent residue from the surface of the pearls.
After cleaning you need to store bridal pearl jewelry correctly.  Each piece should be placed into a separate soft cloth bag.  This will ensure that none of the pearls come into contact with other gemstones or metals that could damage the surface of the pearl.  It may be a suitable idea to actually wrap the pearl bracelets for brides in some soft cloth first.  This will ensure that each pearl in the bracelet is well protected.
Carrying out such will ensure that from now and in the future the pearls will retain their lustre.  Also, the risk of them becoming damaged is greatly reduced as none of the nacres can be chipped away.
We've explained more about how you take care of your pearl jewelry bridal sets.  Another thing to remember that will help to protect the pearls for many years to come is not to wear them before you applied your makeup or perfume.
After you've applied your makeup and perfume allow these to dry fully.  This will help to prevent any of the oils or chemicals in them from coming into contact with the pearls.
This is, of course, one of the main reasons why you must clean such jewelry after it has been worn.  If you don't then over time the chemicals will begin to eat away at the surface of the pearls. So eventually they will start to lose their lustre and also will start to show blemishes on the surface. And we don't want this to happen, right? Just spending a few minutes each day after wearing your pearls cleaning them will help to prevent such from occurring.
Here at Pearlsonly.com, we have a wide selection of beautiful white pearl bracelets for brides to select from.  So finding one that will really complement your dress on such an important day in your life isn't going to be such a challenge. You can definitely create a memorable moment by wearing a fine pearl bracelet from our store!
(Visited 97 times, 1 visits today)