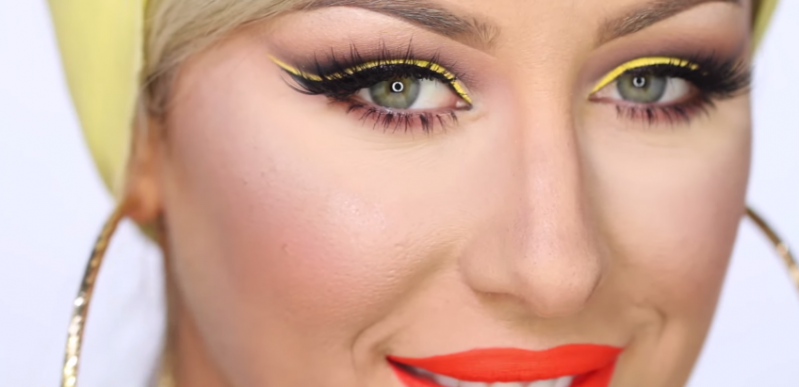 Perlen und Pin-up-Mädels sind schon immer Hand in Hand gegangen, und bei weitem ist dies unser Lieblings-Pinup-Stil, denn diese Pin-up-Puppe ist nicht nur dem Pinup-Katzenaugen-Stil treu, sondern sie hat dem Look ein unterhaltsames und zeitgemäßes Update hinzugefügt. Wir freuen uns sehr, mit Ihnen dieses wunderschöne Make-up-Tutorial zu teilen, das tolle Anweisungen und wunderbare Anwendung hat. Youtube Beauty Guru, Chrisspy, präsentierte ihre Fähigkeiten mit diesem einfachen Schritt für Schritt pinigen Auge Make-up-Tutorial mit fabelhafte Technik, die so modern ist, dass es jeden Tag getragen werden kann! In ihrem Video "Modern Pin-Up Makeup Tutorial" teilte Chrisspy mit uns Einblicke in die Gestaltung eines lustigen und spunkigen, modernen Pinup-Look, der sich leicht meistern lässt.
Wir lieben dieses Tutorial, weil es wirklich gut erklärt ist, Spaß macht und leicht von einem Anfänger getan werden kann. Der Look ist erstaunlich mit einem Paar von wunderschönen, baumelnden Perlenohrringen.
Um das Tutorial zu sehen, besuchen Sie youtube.com/Chrisspy. Im Folgenden finden Sie eine Liste der Elemente, die im Video verwendet werden, um diesen Look zu ermöglichen:
MAC Paint Pot-Painterlich
StarLooks Champagner-Palette
Anastasia beverly Hills Lavish Palette
Inglot Yellow Gel Liner
Makeup Geek Eye Schatten-Korrupt
Makeup Geek Eyeshadow-Kakaobär
Mana Kadar Beauty Powder
NYC Liquid Liner
Jesse es Girl Waterproof Liquid Liner
House of Lashes-Kostbarn (unten)
House of Lashes-Iconic (Top)
MAC LipMix-Orange
Dieser Look wird durch ein Paar unseres "Cage Egg Pearl Earring Set-Black AAA 10-11mm Tahitian Pearl Earring Set" ergänzt.
Und unser wunderschönes, "Royalty Black Pearl Earring Set-Black AAA 9-10mm Tahitian Pearl Earring Set". Was halten Sie von dem Look? Glauben Sie, dass es jeden Tag getragen werden kann? Was würden Sie mit diesem Look tragen? Teilen Sie Ihre Gedanken … Foto Quelle: Chrisspy
(Visited 68 times, 1 visits today)