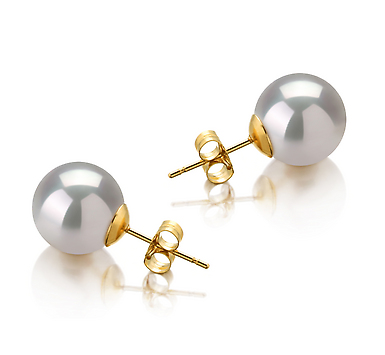 Bescheidenheit und Klasse ist am wichtigsten an Ihrem Hochzeitstag und wir bei Pearls Nur das Gefühl, dass Sie leicht in diesem Form mit unserer wunderschönen Sammlung von weißen Perlenöhrringen bleiben können. Die Ohrringe kommen in allen Formen, Größen, Stilen, Qualitäten, Oberflächen und Preisen, die es für jede Braut leicht machen, den Look zu bekommen, der am besten zu ihrem Stil und ihrem Budget passt, was SEHR wichtig ist. Unsere Ohrringe sind nicht nur von einem Tag, sondern sie sind ein Andenken und ein Gegenstand, der Erinnerungen macht, die ein Leben lang und darüber hinaus halten werden! Jetzt, da die Hochzeitssaison genau vor uns liegt, ist es an der Zeit, einige unserer besten Ohrringe für Braut es To Be zu zeigen. Perlen Nur, hat ein paar überwältigende Stile und Designs, die sicher sind, Aufmerksamkeit von allen zu gewinnen hinzugefügt. Unten sind Ohrringe, die wir glauben, sind perfekt für einen Hochzeitstag!   White AAA 10-11mm South Sea Pearl Earring Set-$565 Haben Sie eine Liebe für Einfachheit und Klasse? Wenn ja, sind diese Ohrringe für Sie. Diese Ohrringe bringen die klassischen Perlenstifte in die moderne Weltmode mit wunderschönen 14k Yellow Gold Ohrring Pfosten zusammen! Was diese Ohrringe zum Leben erweckt, ist, dass es sich um Südseearlen handelt, die selten und schön sind.  Jede Braut wird in diesen Perlen erstaunlich aussehen! Kaufen Sie
sie jetzt!  Katie Heart Earring Set-White AA 7-8mm Freshwater Pearl Earring Set-$55 Want to show your love and engagement to being a "Mrs."? Dann sind das die Perlenohrringe für Sie. Die Katie Heart Ohrringe sind liebenswert und werden eine tolle Ergänzung zu Ihrem Hochzeitstag Garderobe sein. Die weißen Süßwasserperlen, umgeben von den silbernen Herzen der Sterling, sind einfach nur schön für diesen besonderen Anlass. Kaufen Sie sie jetzt!
     Santina Shell Earring Set-White AA 6-7mm Freshwater Perring Set-$49 Wir verehren diese Ohrringe, weil sie einzigartig und schön sind. Die Santina Shell Ohrringe sind das perfekte Accessoire zu einem strapazierfähigen Kleid mit oben gezogenen Haaren, um den sexy und schlanken Winkel dieser frischen Wasser Perlenohringe zu zeigen. Kaufen Sie sie jetzt! 
Bianka Ohrring Set-White AAA 10-11mm South Sea Pearl Ohrring Set-$689 Sprechen Sie über einen Eindruck! Diese Ohrringe sind für eine Prinzessin Braut geeignet! Es handelt sich um weiße Südseekultivierte Perlen mit ausgefallenen 14K gelben Goldpfosten und acht wunderschönen und funkelnden Diamanten. Sie sind ein Anhaltspunkt, und sie werden zwangsläufig der Gegenstand sein, den alle eure Enkelkinder in Zukunft an sie weitergeben wollen. Lassen Sie sie baukeln und glänzen, wenn Sie die Nacht mit dem tanzen, den Sie lieben. Kaufen Sie sie jetz
t!  Ivana Earring Set-White AAA 10-11mm South Sea Pearl Earring Set-$919 Nichts sagt: "Ich bin heirate", als diese Lieblings-Ohrringe. Sie bitten um Aufmerksamkeit und das ist nur, dass Sie verpflichtet sind, zu erhalten, wenn Sie diese Ohrringe mit Ihrem schönen Hochzeitskleid und ordentlich up-do Frisur paaren. Diese weißen, aus der Südsee kultivierten Perlenohrringe sind mit 14K gelben goldenen Ohrringen mit Pfosten versehen, die zu einem Schmetterling geformt werden. Fertig sind sie mit acht funkelnden Diamanten. Klasse und chic! Kaufen Sie sie jetzt!  Sind Sie bereit für Ihren großen Tag? Was halten Sie von diesen Ohrringen? Würden Sie tragen? Für schönere Perlenschmuck-Besuch: www.pearlsonly.com
(Visited 20 times, 1 visits today)