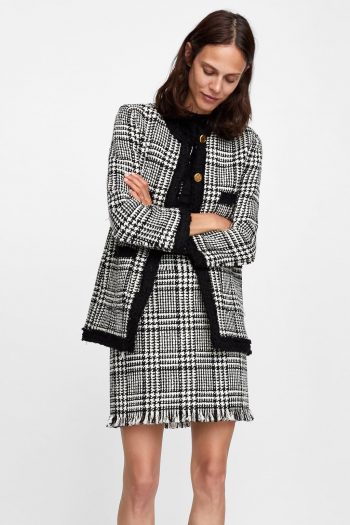 Here are seven fall trends 2018 that you are going to love! We promise! London fashion week is now headline news, yet the fall runway season has already come to a close.   Now is the time to think about what trends will certainly be proving popular over the next few months. Keep reading the article to find out what should keep you warm this fall!
Certainly following the Me Too movement and Time's Up women designers took a very central role.   The likes of Simone Rocha, Chitose Abi, and Donatella Versace presented some really outstand collections this year.
So just what are the fall trends 2018 likely to be?
Below we take a look at what we feel will be the biggest trends that many women are likely to follow over the coming months.
Trend 1 – 80's Excess Is Back
Everywhere you look you will see a lot of designers have been inspired by fashion from the 80"s.   Yes, shoulder pads seem to be back in fashion along with the use of colour blocking.
The use of iridescent foil fabrics, as well as lots of neon, has become ever popular once again.  Think of people like Cyndi Lauper, Bananarama, and, of course, not forgetting Boy George.
Some people love neon others hate it yet when companies like Prada are including such in their designs you know it's going to get even more popular.  Hot pink is definitely one colour that is back in fashion this season but limits how much you wear.  Why not team a beautiful hot pink top with an elegant pair of black pants or some jeans.   You could even finish the outfit off with a pair of hot pink or fuchsia coloured sneakers or a pair of heels.
Of course, if you intend to go down this route why not go the whole way.  Don't limit the number of accessories you wear.  You only have to look at pictures of Madonna back in the 1980's to see that it was perfectly okay to wear as much jewelry as you liked.
Trend 2 – Animal Prints
Forget any preconceptions you may have that animal prints are so last season. They are actually back in a big way this fall.   Designers such as Tom Ford, Victoria Beckham, and Calvin Klein have taken them to heart.
But don't limit yourself to the usual leopard print blouse or coat this winter.  Try experimenting by mixing spots with stripes.   Certainly, this fall Zebra is all the range in a wide array of different styles and colours.  Yes, you could wear the usual black and white but some designers have chosen more muted colours, such as zebra designs in browns and creams.
But be careful, as you don't want to go overboard.  It is best to keep the rest of your outfit minimal, so team a nice animal print blouse with a pair of jeans, a black skirt or trousers.
When it comes to shoes less is better, instead of wearing a pair of heels, stick to wearing a pair of ballet type pumps or a pair with a small kitten heel.
As for jewelry less is better again.  Why not wear a simple strand of pearls or just a beautiful pair of pearl stud earrings.   Either of these will add a touch of elegance to your outfit.
Trend 3 – Fringing
Fringing isn't something that only hippies can wear and certainly, the styles in fashion now would definitely look out of place at a festival.  This is because fringing has become somewhat refined these days.   The stakes have been upped this season with the use of some beading and some shimmer.
The designs that appeared on the catwalks during the Fall 2018 season will certainly be in the shops soon.  Why not team say a fringed skirt with a pair of boots.  But go for a pair with a heel rather than flats.   Also, opt for ones just below the knee rather than above it.
Trend 4 – New Romantic
I'm not talking about Duran Duran or Spandau Ballet here.  Instead it is about the use of floral prints and gossamer materials that you then team with a nice jumper.  Again such clothing should be worn with either boots or even sneakers this season.
This is definitely a look that a great many women will be getting behind.  Not only are the colours beautiful but, many women will feel even more feminine during this 2018 fall when they wear such items.
For those who want to really make a statement of course accessories are going to play a key role.  This season why not wear some beautiful black or gold pearls as offered here at Pearlsonly.com with yours.
Get this statement pair of black pearl earrings from here.
Trend 5 – Skirt Suits
Every one of the Fall trends this year shows this year had a tailored suit in the mix.  But out went the trouser style suit and in came elegant skirt ones.   Especially this season such suits were favoured by the likes of Dior, Chanel, and Louis Vuitton all of whom are known for their glamour and elegance.
But rather than going for the usual muted or plain colours, this season plaids and tweeds are in favour.   In fact, the use of plaid has already become a firm favourite with many of the top high street fashion stores.  A quick look in stores like Mango and Zara and you can see that they've taken note of what was appearing on the catwalk.
This kind of outfit isn't only for wearing during the day you can really take it up a notch for a night out.  Forget the jacket and team the skirt up with a bright coloured top with an asymmetrical neckline.  Instead of wearing a pair of flats with this outfit team it up with a pair of heels.  Even a pair of sandals would look amazing with an outfit such as this.  To finish your outfit off wear a pair of dangly pearl earrings or a beautiful pearl pendant.
Trend 6 – Western Look
This is going to be a look that is going to be hard to ignore over the next few months during the fall trends 2018. Already I've noticed in some stores that cowboy boots are in vogue and so are prairie-style dresses.   Also, the wearing of neckerchiefs is likely to a favourite with many women over the next few months.
The great thing is that with plaid being in fashion also this winter it will really mix well with this particular look.  But try not to go down the Daisy Duke route if at all possible.  Rather than looking trendy, you may find yourself looking a little aged.
Trend 7 – Leather Is In
Yes, fur may be out but leather is certainly a favourite with many top designers this winter.   But no longer are they sticking to the rules of it being black, other colours have become extremely popular.  Certainly, stores are definitely getting in on the trend by choosing muted colours, such a burgundy, cream or even butterscotch.
But it is worth actually investing in a lovely black leather midi skirt as a capsule item in your wardrobe.  This is an item that will never go out of fashion and will look great worn with many of the trends I've already discussed in this article.   I would definitely look at pairing mine with an animal print blouse and a pair of beautiful black ballet style shoes.
Again accessories will play a key role and you could, of course, go down the route of adding a little bit of bling or colour to your outfit.  But I would prefer to keep things simple and elegant.  I'd team up my outfit with a simple pearl choker or a visible pearl pendant, like this one for example, shaped as a grape. So appropriate for this fall!
As you can see when it comes to what to wear this fall you'll find yourself spoilt for choice. These seven fall trends 2018 are absolutely wearable and extremely fashionable! But it is best to try not to wear too many different styles at once, but rather stick to one style only.  Yes, I was a child of the 80's but I'm pretty sure you'll find that I won't be wearing so much as I did back then.
For us, the trends that we are in love with are the more elegant ones.  We love the use of plaids and animal prints this year.  But we won't go overboard instead we will be teaming them up with more simple tailored pieces. We will be looking to team a nice plaid or tweed skirt with a turtleneck sweater in a colour that matches the colours of the skirt.    For us, we would prefer to go for more muted colours, as this will suit our pearl tones much better.  However, we encourage you to be a little more adventurous when going out for the evening and add a touch of neon into the outfit as well.
We hope the above is going to help give you some ideas for you to come up with some new outfits for your wardrobe this coming winter.   Remember less is more in some ways but it is okay to go over the top a little sometimes.  Just remember to avoid too many things that are likely to clash and take a look at how some of the designers have used the various Fall trends 2018 we've mentioned above in their outfits.
(Visited 152 times, 1 visits today)