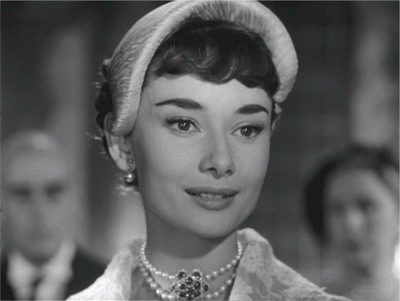 Even though Audrey Hepburn died in 1993 women around the world would still lave to be her.   Like so many actresses who came to prominence in the 1950's and 1960's, she had a sense of style that was so unique to her. Remember the famous Audrey Hepburn pearl necklace? She definitely defined her own way of wearing pearls.  She also carried herself with a grace, elegance, and class something that some women today try to emulate.  This is why so many women today see Audrey Hepburn as a style icon.
What may surprise you to learn that it is now nearly 25 years since her passing, yet she still has a big fan base?  But it isn't just women who grew up watching her films that love her so much, so do young girls as well.   This helps to show just how timeless her style truly is.
There are many reasons why even today women want to try and emulate style icons like Audrey Hepburn.   Throughout her life even after she finished making films and became an activist her sense of style remained consistent.  She loved to stick to simple outfits that oozed class.
Like us whenever you think of Audrey Hepburn you picture wearing that perfect LBD or elegantly tailored outfits.  She also made sure that she stuck to more simple colour palettes.  But if you really want to capture her style you really need to take a closer look at the ensembles she loved to wear.
You could actually follow Audrey's style by adding a few ten classic pieces into your wardrobe.   If not you could actually create a look that is similar with pieces that you may have in your wardrobe already.
Who Was Audrey Hepburn Style Icon?
Audrey was born in Belgium in 1929 and at the age of 25, she came to the attention of the world through her role in the beautiful 1954 film "Roman Holiday", for which she then received the Best Actress Oscar.  Her career then moved on very quickly and it was her next film the enchanting "Sabrina" that helped to cement her as one of Hollywood's greats.
It was at this time she also got introduced the amazing Hubert de Givenchy, whom she became a source of inspiration.  It was this talented designer who then designed all her personal outfits along with those she wore in some of her most iconic films.  How can anyone not remember the little black dress she wore in "Breakfast at Tiffany's" that she teamed with some pearls.
The same little black dress was placed up for auction in 2006 and sold for an astounding £467,200.  This is the most that has ever been paid for a dress that appeared in a film and has clearly helped to cement Audrey Hepburn as a style icon.
For many women today being able to capture this beautiful woman's style continues to be something that they would love to attain.  If you want you could add a touch of grace and elegance by adapting some of your wardrobe.  Here are a few suggestions that will help you to create a look similar to Audrey Hepburn's without it breaking the bank.
Tip 1 – Simple Dresses
You don't need to wear anything fancy instead you should let your figure do the talking.
A dress that fits well and is appropriate to your body shape will always remain timeless.  You don't need to wear anything flashy or highly patterned, as this will only draw people's attention away from what you really want them to see.  A woman who is proud of her figure and the way she looks.
Yes of course black is the preferred option when it comes to choosing dresses that look elegant and classy.  But you may prefer to go for something a little more daring and opt for say a dark blue or red instead.  Just make sure that you stick to one colour throughout your outfit, and that includes the shoes.  Ideally, go for shoes that are of a similar colour or something more neutral.
Tip 2 – Go For Horizontal Stripes
Audrey Hepburn loved stripes and horizontal ones suited her the best because of her size.  In many photos of her, you will see that stripes feature heavily.  She was particularly fond of wearing items that had very broad stripes known as Breton Stripes.
Again if you wear such items make sure that you don't wear tops that contain too many colours in them.  It is best to stick to items that use two contrasting colours for the stripes.
Tip 3 – Collared Shirts Are Stylish
A nice fitting collared shirt where the top two buttons are left undone really creates a carefree, casual look.  Yet still adds a hint of sophistication to any outfit you wear.  Such will show that you are intelligent but refined yet you aren't at all boring.
You will frequently see pictures of Audrey Hepburn choosing to wear a collared shirt.  Often she would team it with a pair of well-tailored Capri pants or a full-length A-Line skirt.  But what you will also notice is that again she kept things simple.  So she would often team a white collared shirt with something black.
You could team your white collared shirt with a beautiful  Andrey Hepburn necklace or pendant that contains black pearls for example.
Tip 4 – Bold Prints Are Fun – Go For It!
Most of us will, of course, remember Audrey for wearing those sleek but plain dresses that were so elegant and fashionable during the 1950's.   This is what helped to cement her as Audrey Hepburn Style Icon 1950's.  Yet she also wasn't afraid to be a little more daring and wear something with patterns.
One image I love of her from the film Funny Face is of her wearing a very bold coloured dress.  But to help with toning things down she wore a very simple but large hat.  Plus of course not forgetting she wore a beautiful pair of pearl stud earrings.  The colour of which completed the rest of the outfit she wore.
Tip 5 – Flats Are A Must
Before becoming an actress Audrey had spent years training as a ballet dancer and as result of this loved nothing better than to wear a good pair of ballet style flat shoes.  Yes, she did wear heels but in all honesty, she preferred to wear flats.
As you will discover not only are flats more versatile but also more functional.  They don't just look great but the best thing is that you will find walking in them a great deal easier.   I love to pair of great pair of ballet flats as Audrey Hepburn did with a well-tailored pair of trousers or a long A-line skirt.   They even look great when worn with a nice pair of shorts.
Tip 6 – Sunglasses Are Essential
One image that really helped to cement Audrey Hepburn as a style icon, was her wearing of sunglasses with that classy LBD in "Breakfast At Tiffany's".  It really helped to turn a very classy outfit into something a little cooler.  Within a matter of weeks, women across the world were looking for sunglasses similar to those worn by Audrey.
Today why not try doing the same, but make sure to select a pair of sunglasses that suit your face shape.   Also, make sure to keep to black frames as again this helps to really add an elegant touch to any outfit.
Tip 7 – The Audrey Hepburn Pearl Necklace & Earrings: Keep Accessories Simple
Like Audrey Hepburn to further add a touch of style to the outfit team your top with a beautiful pair of pearl earrings or a pearl pendant.  Don't go too overboard just keep things simple when it comes to accessories.
When it comes to jewelry, again you need to remember that she wasn't one really for statement pieces, although she wore a few in some of her films.  She tended to stick to simple pieces that really helped to show off her beautiful delicate features to their full.
Generally, you will find that style icons like Audrey Hepburn tend to stick to wearing only one piece of jewelry at a time.
In most cases, you would often find that her most favoured piece of jewelry was a pair of beautiful pearl earrings.  She tended to opt for studs or teardrop styles as both of these helped to frame her face so well.
These days when it comes to jewelry and pieces similar to Audrey Hepburn pearl necklace you have a huge selection of beautiful pieces that are made using good quality pearls.   When it comes to choosing the right jewelry to wear it is important to remember to keep things simple.   Ideally, choose pieces that only contain one colour pearl in the design and preferably stick with the more natural or muted colours of pearls now available.   So stick to pieces that contain either white, pink or silver pearls in them.
You can of course if you want to be a little more daring especially if you are wearing more bolder colours or patterns.  For such outfits why not accessorise with jewelry that contains either black or gold pearls instead.  Although these make more of a statement they will still add a touch of class and elegance to any outfit you are wearing.
If you want to find a suitable piece of jewelry that will help you to create a look similar to that of Audrey Hepburn then look no further than here at Pearlsonly.com. We are certain you can find Audrey Hepburn's pearl necklace in our collection as well.
(Visited 353 times, 1 visits today)